Denver, CO, November 17 – 22, 2013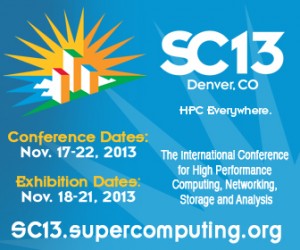 OSDC will be participating at SC13 with the session "Collaborative Opportunities with the Open Science Data Cloud".
For a quarter of a century, the Supercomputing Conference has served as the crossroads for the entire HPC community. From users and program managers to colleagues and vendors, from government to private industry to academia, Supercomputing has provided unparalleled cooperation, unequaled collaboration, and unmatched exposure.
OSDC/LAC presence at SC13
Sunday 11/17
Monday 11/18

Exhibition Press Tour 6-7pm
Exhibition Opening Gala 7-9pm

Tuesday 11/19
Wednesday 12/20
Thursday 12/21

Exhibition Open 10am-3pm
Demonstrations of Computational Genomic Analytics at 100 Gbps Across a National Data-Intensive Computational Science Testbed at SC13:  Joe Mambretti, Bob Grossman, Don Pruess - 10:45-11:00am
Demonstrations of 100 Gbps Services and Technologies Supporting HPC Clouds at SC13:  Joe Mambretti, Robert Grossman, Rod Wilson, Marc Lyonnais, Jim Chen - 11:15-11:30am
Demonstrations of Data-Scope at 100 Gbps Across a National Data-Intensive Computational Science Testbed at SC13:
Joe Mambretti, Alex Szalay, Jan Vandenberg, Jack Wells, Jason Hill, Ryan Adamson, Daniel Pelfrey, Scott Kock, Eli Dart, Tom Lehman, Robert Grossman - 11:30-11:45am
The UDT Forum: A Community for UDT Developers and Users:  Allison Heath, Robert Grossman - 12:15-1:15pm
---