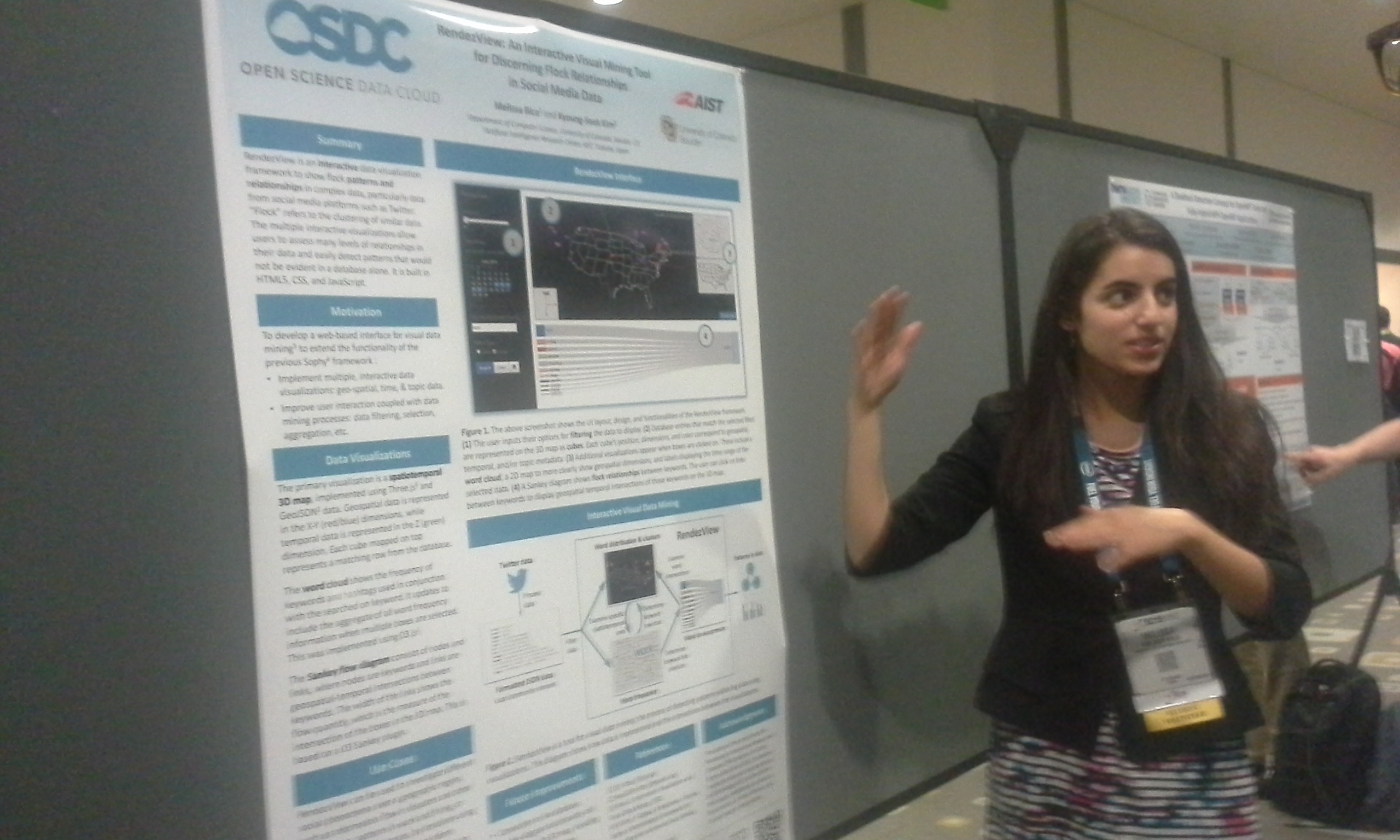 OSDC and PIRE at SC15
OSDC and PIRE participated at the SC15 Supercomputing Conference held November 15-20, 2014 in Austin, TX. We held a joint Birds of a Feather Session with the Research Data Alliance about our experiences developing scientific community clouds and building a growing global community around interoperating data commons.
Integrating Data Commons and Other Data Infrastructure with HPC to Accelerate Research and Discovery
Event Type: Birds of a Feather
Date: Tuesday, November 17th
Time: 12:15pm - 1:15pm
Session Leaders: Robert Grossman, Satoshi Sekiguchi, Allison Heath, Maria Patterson, Beth Plale
Location: Room 15
Abstract: A data commons is an emerging architecture that brings together and interoperates data, storage, compute, informatics tools, and applications for a research community. There is a growing global need for data commons and more general data infrastructure to support data driven challenges, including effectively transforming data, building complex models, and supporting sophisticated visualizations. This session will discuss practical experiences developing and operating data commons and other data types of high performance data infrastructure. This is a joint BOF between the Open Commons Consortium (OCC), the Research Data Alliance (RDA), and the Center for Data Intensive Science (CDIS), University of Chicago.
OSDC PIRE 2015 Fellows' Presentations
Several of this past summer's PIRE fellows presented their research at SC15.

Nam Pho presented a paper at the 2015 Software Defined Networking (SDN) for Scientific Networking Workshop with Brazil collaborators.
Paper: Data Transfer in a Science DMZ using SDN with Applications for Precision Medicine in Cloud and High-performance Computing
Authors: Nam Pho, Dino Magri, Fernando Redigolo, Byoung-Do Kim, Timothy Feeney, Heidi Morgan, Chirag Patel, Chris Botka, and Tereza Carvalho
Date: Friday, November 20th
Time: 8:40am - 9:00am
Session Link: SDN for Scientific Networking

Melissa Bica presented research completed with OSDC collaborators at AIST in Japan.
Poster: RendezView: An Interactive Visual Mining Tool for Discerning Flock Relationships in Social Media Data
Authors: Melissa Bica, Kyoung-Sook Kim
Date: Tuesday, November 17th
Time: 5:15pm - 7:00pm
Location: Level 4 Concourse
Session Link: Poster Presentation: RendezView
Poster: (pdf)
Abstract: (abstract)

Ryan Mork presented data flows management research completed with OSDC collaborators at the University of Amsterdam, Netherlands.
Paper: Contemporary Challenges for Data-intensive Scientific Workflow Management Systems
Authors: Ryan Mork, Paul Martin, and Zhiming Zhao
Date: Sunday, November 15th
Time: 1:30pm - 2:00pm
Session Link: WORKS 2015 Workshop
Paper: (pdf)

Ryan had this to say about attending and presenting at SC15:
I'm primarily interested in how domain scientists use HPC: everything from the hardware employed, software choices for execution, as well as their employment of workflows and workflow management systems. Accordingly, I attended WORKS '15, and presented my paper, "Contemporary Challenges to Data Intensive Scientific Workflow Management Systems." I also attended a Birds of a Feather discussion on data intensive workflows and learned how 'mini-workflows,' really sample workflows, are used to design the next generation of HPC.

What most interested me was a program called XALT that captures usage analytics of HPC clusters: software employed, libraries used, and compute time, by their users. Rather than focus on performance, the goal of XALT is to see what software is relevant to modern supercomputer users in their computation. Such information is critical in determining which enabling software will best help scientists tackle high-impact scientific problems.

I also honed my own computational repertoire by attending tutorials on harnessing GPU's for computation in Python through OpenMP and how to visualize complex datasets through the powerful visualization software VisIT. A significant focus of my current research necessitates efficient and engaging visualizations, so VisIT seems like a great fit!

I would like to thank the OSDC PIRE program for providing me the opportunity to visit SC'15 and engage with the HPC community. It was great to talk to so many scientists, engineers, and professionals tackling challenging computational problems that I face in my own day-to-day research.
---