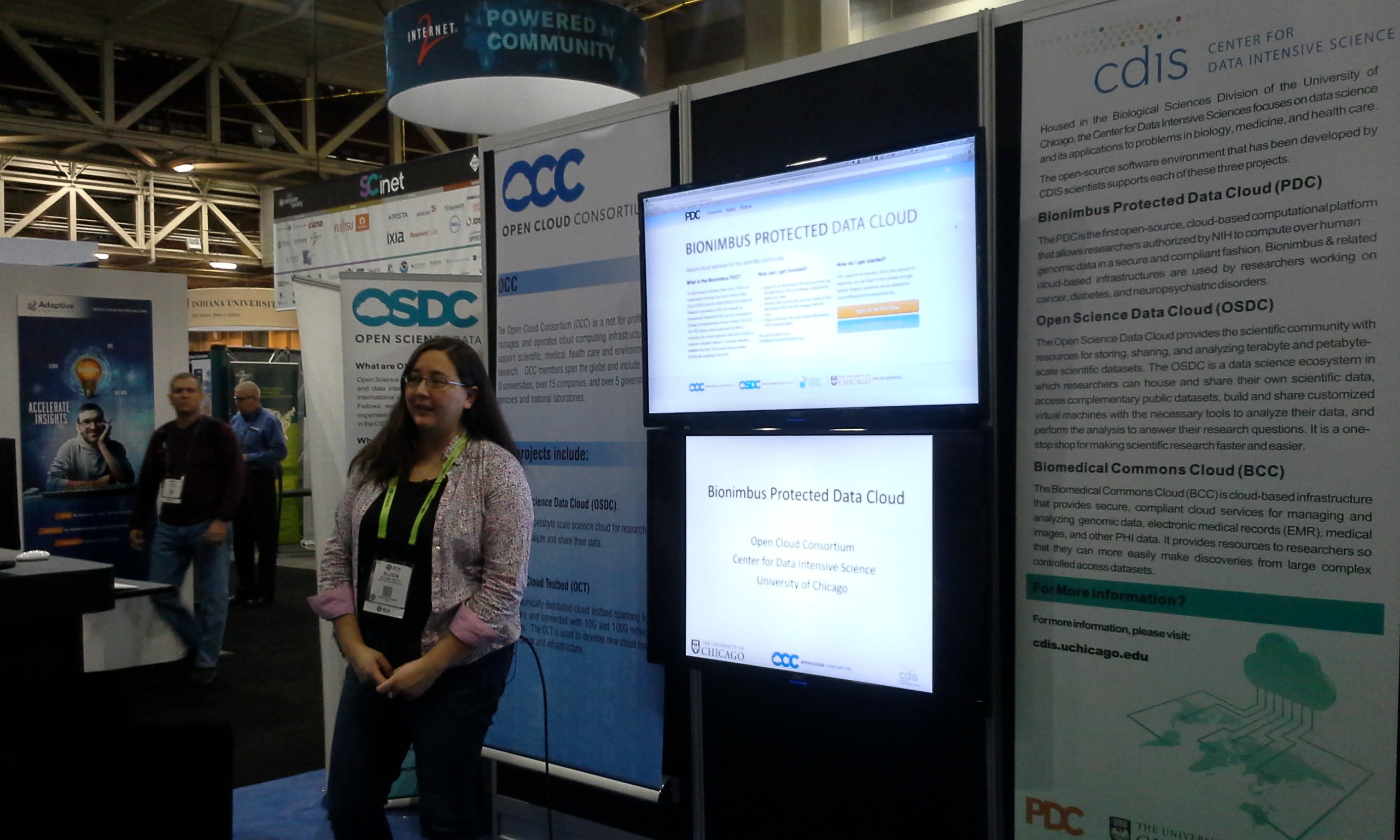 OSDC and PIRE at SC14
OSDC and PIRE participated at the SC14 Supercomputing Conference held November 16-21, 2014 in New Orleans, LA. We held a Birds of a Feather Session about research with large datasets, the Open Science Data Cloud, and the PIRE fellowship program.
The Open Science Data Cloud and PIRE Fellowships: Handling Scientific Datasets
Event Type: Birds of a Feather
Date: Wednesday, November 19th
Time: 12:15pm - 1:15pm
Session Leaders: Robert Grossman, Maria Patterson
Location: Room 297
Abstract: A wide variety of disciplines are producing unprecedented volumes of data, and research groups are struggling to manage, analyze, and share their medium to large size datasets. The Open Science Data Cloud (OSDC) is an open source infrastructure designed to allow scientists to easily manage, analyze, integrate and share medium to large size scientific datasets. OSDC is operated and managed by the not-for-profit Open Cloud Consortium. Come to this session to learn about how you can use the OSDC for your big data research projects and how to participate in the NSF sponsored OSDC PIRE (Partnerships in Research Education) program.
OSDC PIRE 2014 Fellows' Presentations
Several of this past summer's PIRE fellows presented their research at SC14.

Alexander Moreno presented a co-authored paper at the 2014 Data Intensive Scalable Computing Systems (DISCS-2014) workshop about research completed with University of Edinburgh School of Informatics collaborators.
Paper: dispel4py: A Python Framework for Data-Intensive Scientific Computing
Authors: Rosa Filgueira Vicente, Iraklis Klampanos, Amy Krause, Mario David, Alexander Moreno, and Malcolm Atkinson
Date: Sunday, November 16th
Time: 10:30am - 12:00pm
Location: Rooms 298-99

Alexander Moreno presented a paper at the Workshop on High Performance Computational Finance.
Paper: Speeding up Large-Scale Financial Recomputation with Memoization
Author: Alexander Moreno
Date: Sunday, November 16th
Time: 3:30pm - 4:00pm
Location: Room 292

Yuan (Ben) Zhao presented research completed with OSDC collaborators at AIST in Japan.
Poster: Hydra: An HTML5-Based Application for High-Throughput Visualization of Ligand Docking
Authors: Yuan Zhao, Jason Haga
Date: Tuesday, November 18th
Time: 5:15pm - 7:00pm
Location: New Orleans Theater Lobby
Session Link: Poster Presentation: Hydra
Poster: (pdf)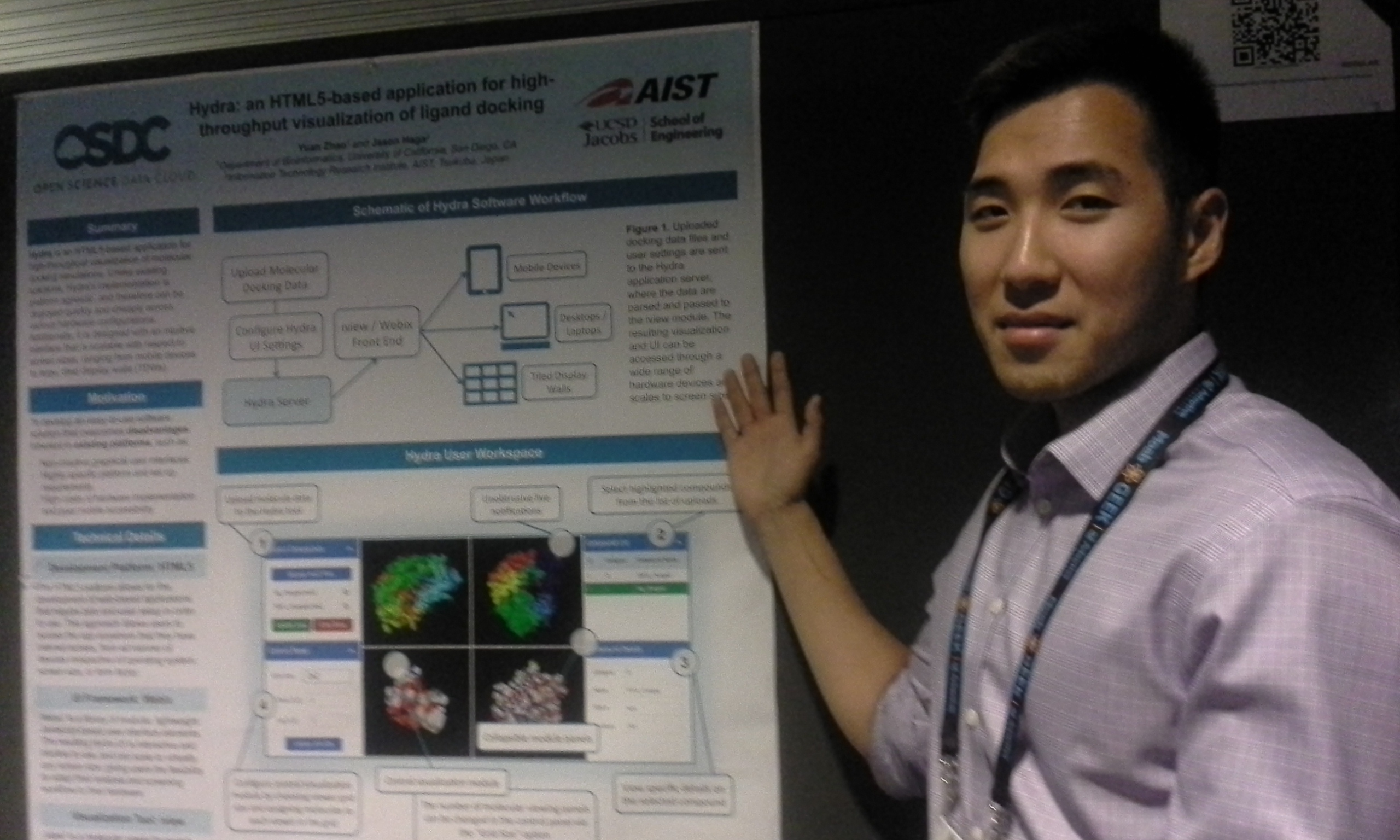 Cody Buntain and Christopher Natoli presented research completed with OSDC collaborators at the University of Amsterdam, Netherlands.
Poster: Comparing Algorithms for Detecting Abrupt Change Points in Data
Authors: Cody L. Buntain, Christopher Natoli, Miroslav Živković
Date: Tuesday, November 18th
Time: 5:15pm - 7:00pm
Location: New Orleans Theater Lobby
Session Link: Poster Presentation: Change Points
Poster: (pdf)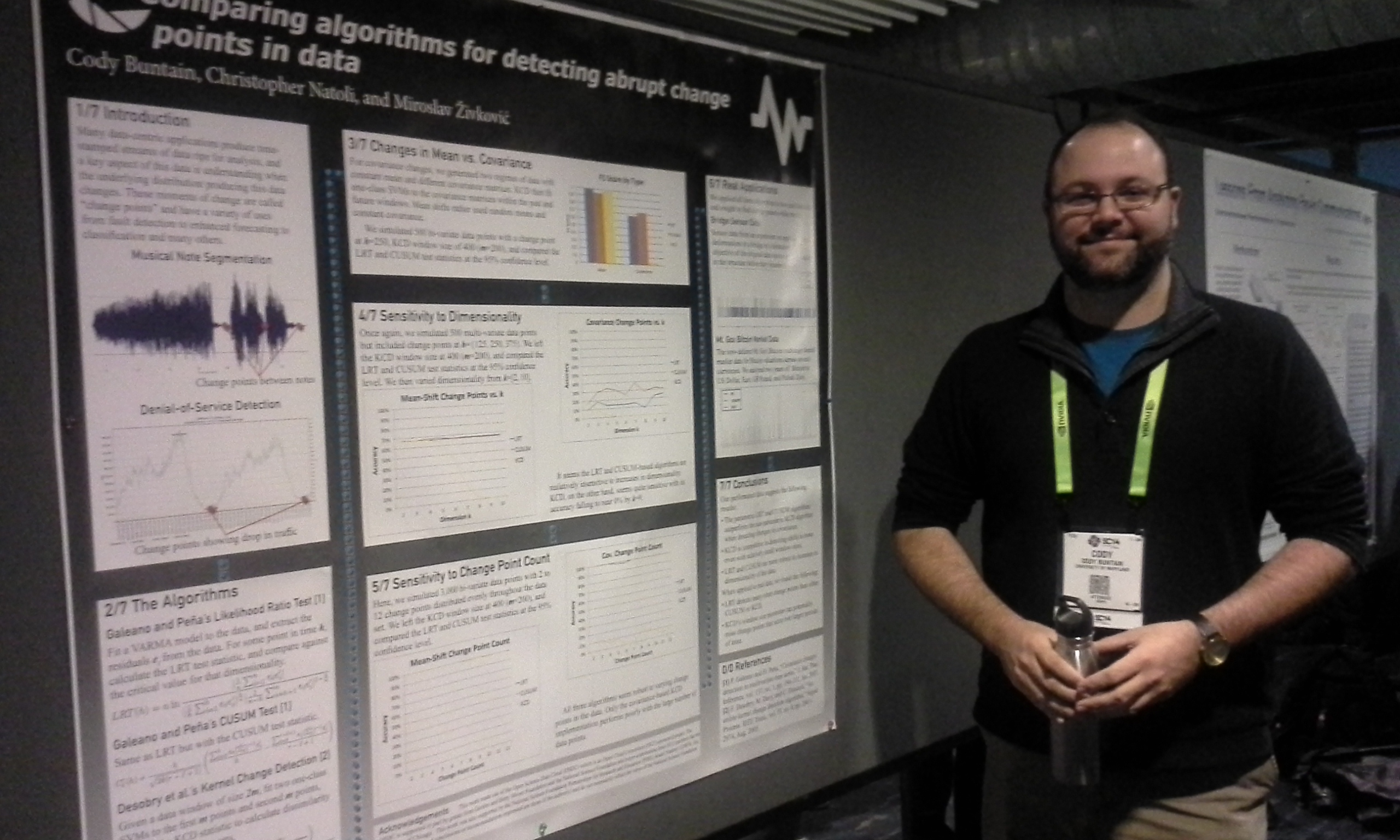 ---