Members of the Project Matsu team from NASA and PIRE fellows from University of Oklahoma are at the Flood and Drought Risk Management Workshop in Windhoek, Namibia this week.   They will be discussing Project Matsu with experts from different disciplines to exchange experiences about the adaptation and mitigation of flood and drought related impacts.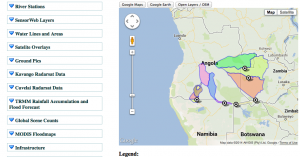 Project Matsu is a collaboration between NASA and the Open Cloud Consortium to develop open source technology for cloud-based processing of satellite imagery to support the earth sciences.
The Flood and Drought Risk Management Workshop is organized by the Namibia Hydrological Services within Ministry of Agriculture, Water & Forestry in collaboration with NASA.
Find out more about Project Matsu on the OCC YouTube Channel.
---